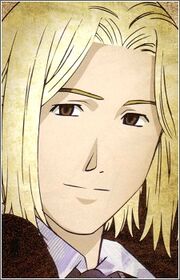 Franz d'Epinay is the childhood friend of Albert de Morcerf. As a child his father was politically murdered by Noirtier de Villefort. More cynical than his comrade, he investigates the origins of the Count of Monte Cristo, but unlike the others he attempts to maintain his good relationship with Albert, the Count's most avid defender.
To save Albert's life, Franz drugged him on the night before his duel with the Count and fought in his place, dying in the process. It is ambiguous whether or not the Count knew of the deception prior to the boy's death.
Ad blocker interference detected!
Wikia is a free-to-use site that makes money from advertising. We have a modified experience for viewers using ad blockers

Wikia is not accessible if you've made further modifications. Remove the custom ad blocker rule(s) and the page will load as expected.